The Jill Pasanth mango also known as the Ice Cream mango from India - so named because one scoops the flesh off the mango once halved. When properly chilled, the consistency of the flesh is similar to that of eating mango ice cream - only that it is pure fruit!
The season comes around once a year around early part of June. These mangoes are air flown from India after they are harvested from the southern part of India. According to leaflet in the box, these mangoes are left on the trees without protection from the elements and harvested when they mature to the right size and ready for export. Unlike the varietals from Thailand, these mangoes are round shaped instead of oval.

The mangoes are packed in styrofoam boxes and air flown into Singapore as evident on the labels on the boxes. Marked on the size shows the number of fruits per box - they can range from 13 fruits to 17 fruits per box.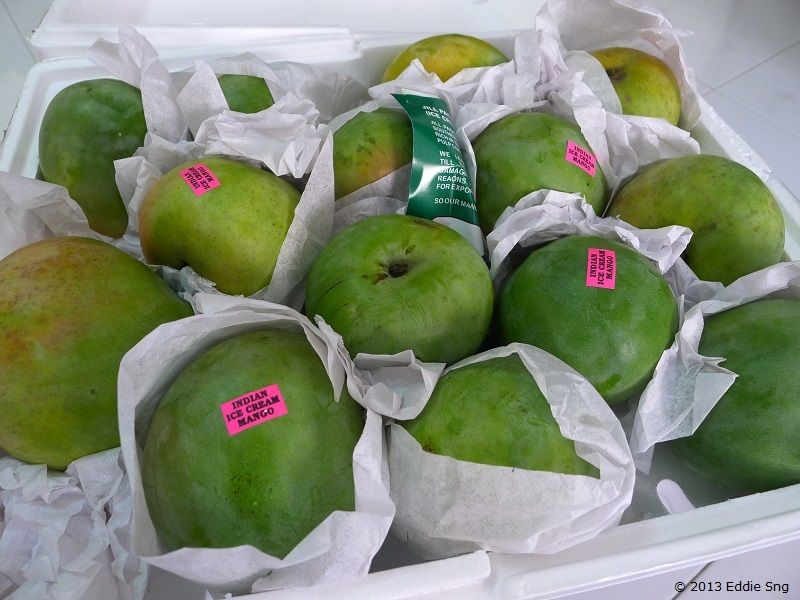 This box contains 14 fruits all wrapped in paper to prevent the mangoes from damage. Clearly labelled on the mango is a pink label - Indian Ice Cream Mango. As this is the start of the season, the fruits are a little green and hard to the touch.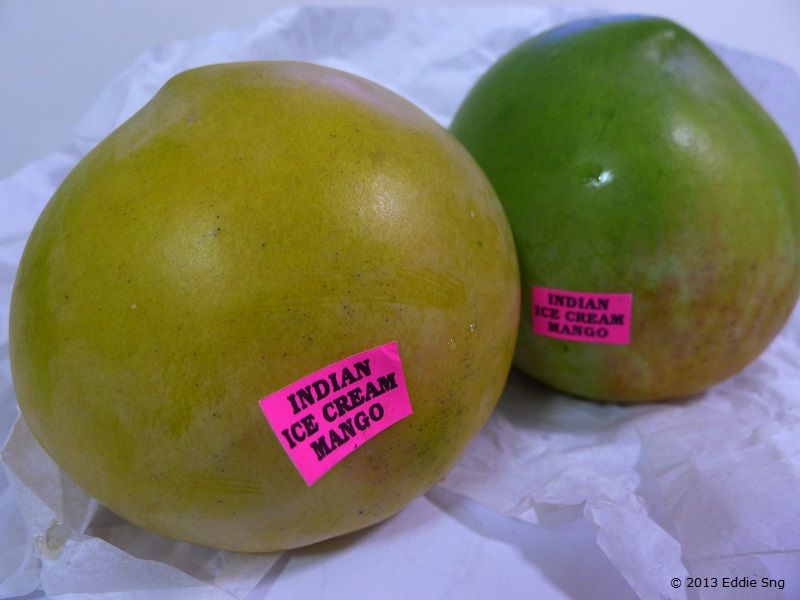 These picture shows how fast the fruits ripen over a period of three days. These fruits comes with small kernel (seed) and are very fleshy.

See how juicy the mango is? Best eaten cold. The "proper" way to eat these mangoes are to refrigerate them after they are ripe. An hour before eating the mango, put them in the freezer compartment. This allows the flesh to somewhat harden. When you take them out from the freezer, half cut the mango the way you would an avocado, twist to remove the seed and the mango is ready to eat.

Scoop the flesh with a spoon. Notice how thin the skin is? Excellent taste and very juicy - none of the fibrous texture found in other types of mangoes and super sweet. The ice cream mango season lasts for about 4-6 weeks. For me, I've started enjoying mine already.

Thanks to my friend Thomas Choong of XiYan Private Dining, he shared with me his way of eating the Ice Cream Mango - with Ice Cream of course! The vanilla ice cream adds to the chill and actually balances the little sour and tanginess.