Or Tor Kor Market in Bangkok - well known to the tourists for their extensive choice of fruits, vegetables and foodstuff. One of my favorite "Must Go" places in Bangkok before I leave for home.
Or Tor Kor is probably one of the cleanest wet markets in Bangkok. Be prepared to pay slightly higher prices here compared to other markets. But the quality is definitely worth it. Following the haze situation when I can imagine Singaporeans buying boxes of N95 masks instead of boxes of fresh fruits, I told myself I had to make it to Or Tor Kor Market this time to grab some fruits in season. The market is as usual buzzing with crowd and plenty of stalls to choose from.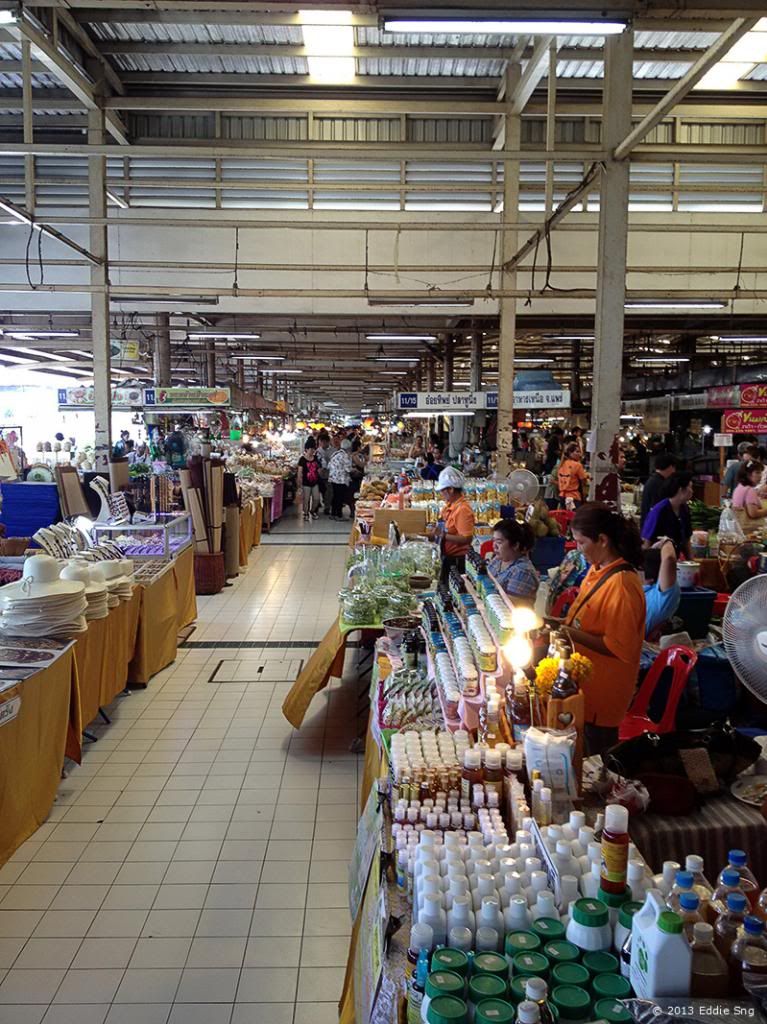 Nearer to the entrance are where most of the cooked food stalls are. Thai tidbits, grilled seafood and dried foodstuff all displayed neatly under bright lights.

The seafood is as fresh as one would expect and the fresh water prawns are huge! Each easily 200 grammes. When grilled, they are sweet but a little chewy. Also available are freshly peeled crab meat.

And the start attraction for me is always the fruit stalls. Durian stalls selling everything durian from the fruit to durian paste, durian chips… You name it, they probably have it.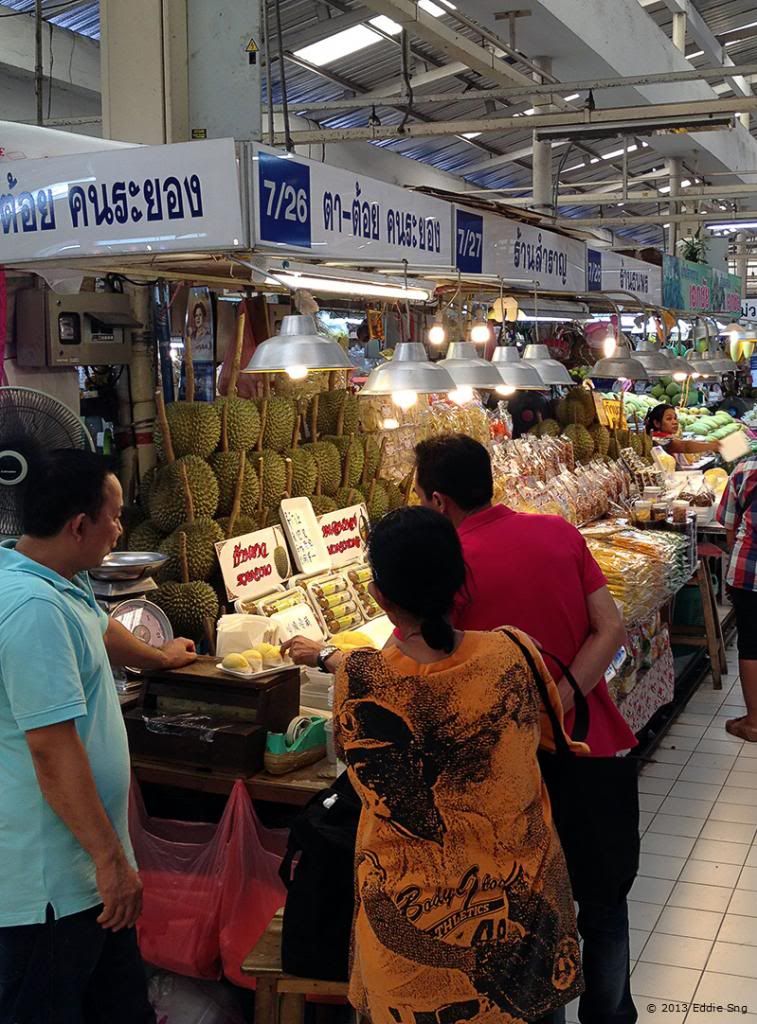 But Thai durians are not as pungent as we like. The Thais prefer it less ripe and a little hard. What we consider as soft durian flesh is unwanted by the Thais. Too soft they say… The texture of the Thai durians are like that of cheese. Slightly harder on the outside but creamy on the inside.

Most of the stalls sell Thai fruits while some sell imported fruits like this one. Spotted were white Rainer cherries from the US, small champagne grapes also from the US and the "seedless" lychees from China. "Seedless" because the seeds are so small it is 98% lychee flesh! More on that on my next post.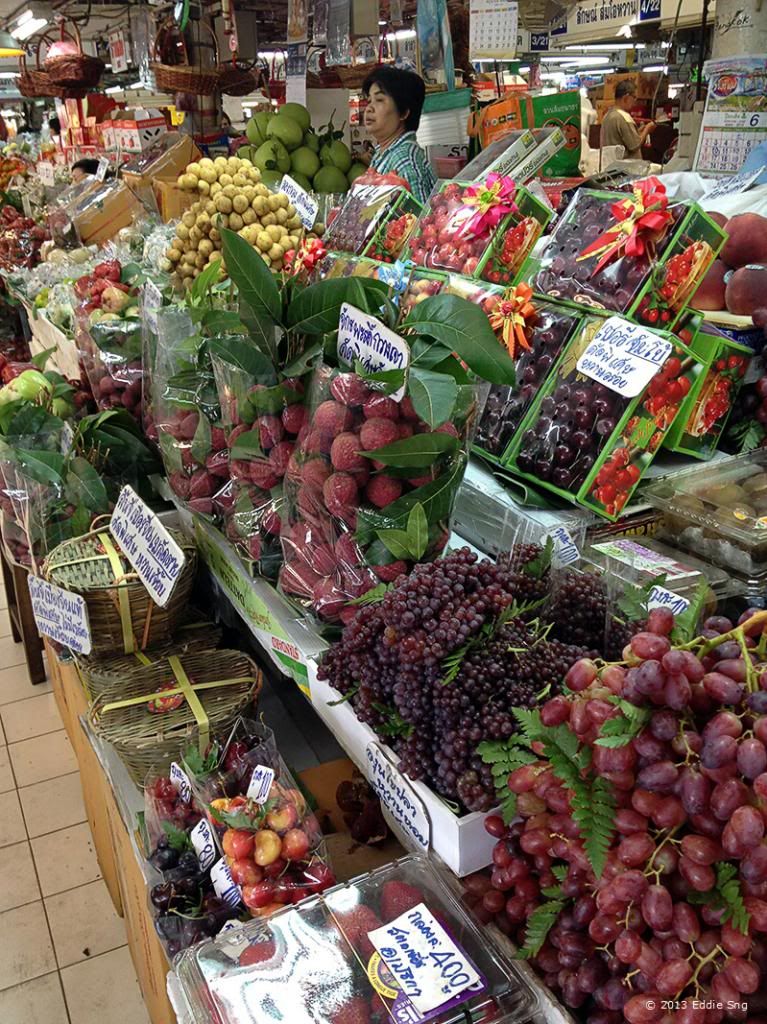 And in season are mangosteens too. Grown locally, they are much smaller than those we find in Singapore. But sweet they are! And a great counter-balance to the "heatiness" of durians and mangoes.

When you buy more than your fair share, they pack them into boxes for you as check in luggage. This is service for you. Remember to ask the airline check in counter staff to apply a "Fragile" sticker on the box.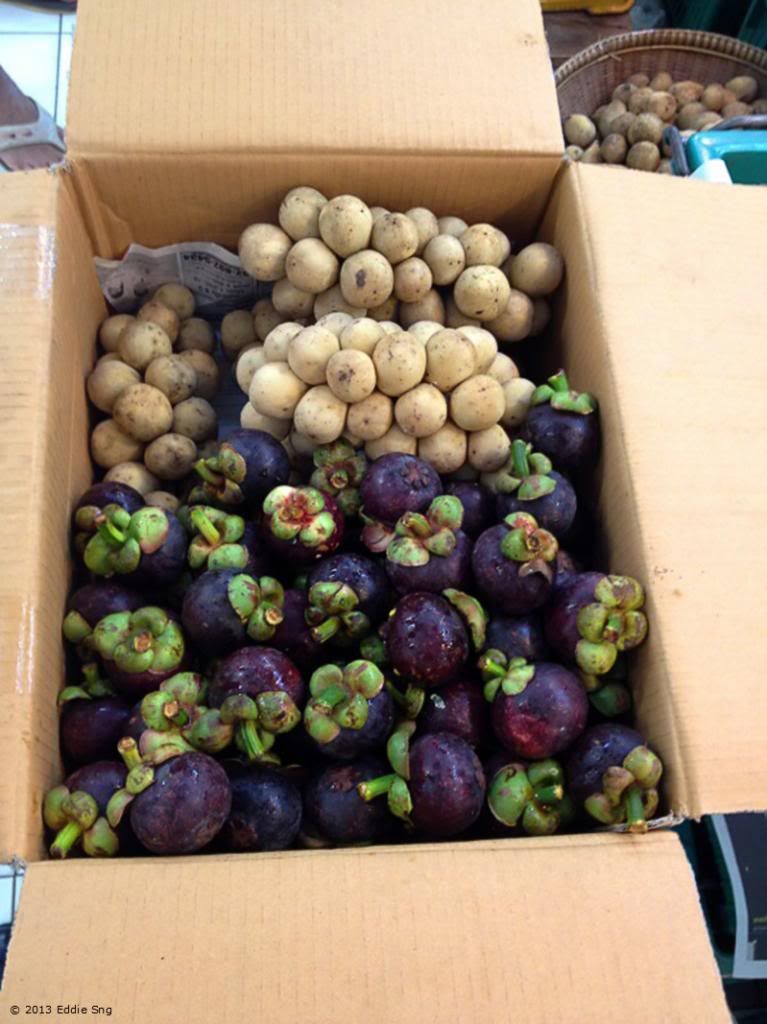 Part 2 coming up when I cover the Mangoes, Lychees and more on the Mangosteens.