Following our last GTG at Pasarbella, we thought it was a good idea to invite some ladies for this GTG. And what a party it turned out to be!
Thanks to Peter's recommendation, we held this GTG at Immigrants Gastrobar at Joo Chiat. Never before we have a group of more than 30 and in this case, we had 41. Immigrants serves Peranakan Food and for this occasion, we had it buffet style allowing all to mingle, makan, sip and chat.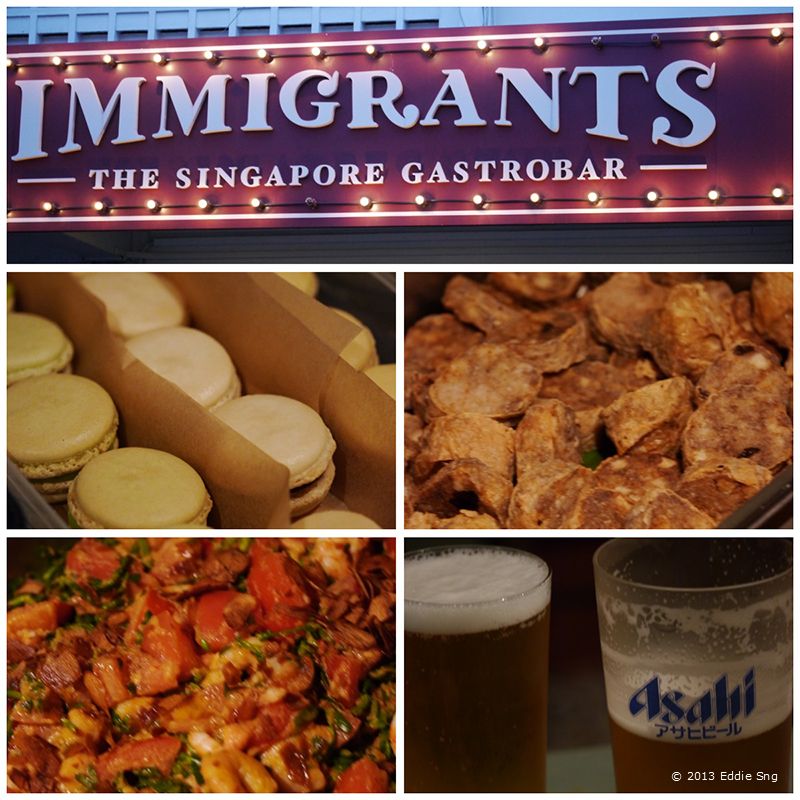 The menu consisted of Singgang, Ngoh Hiang, grilled Ayam Sioh, Ayam Kalasan, Sambal Buah Kluak, Beef Cheek Rendang (signature dish), banana bud salad with prawns, warm salad of wild ferns, Squid Bombs and for dessert Durian Pengat. For the beef eaters, the beef cheek rendang was superbly cooked - tender beef with the right level of spices. The Singgang is a non-spicy dish of deboned wolf herring, taste much like otah but not as spicy. I like the Ayam Kalasan which was marinated well. The banana bud salad is totally unusual but I liked it a lot too. The squid bomb was probably the most spicy of the lot but also a crowd favorite. Chef Damian did a wonderful job of feeding all of us.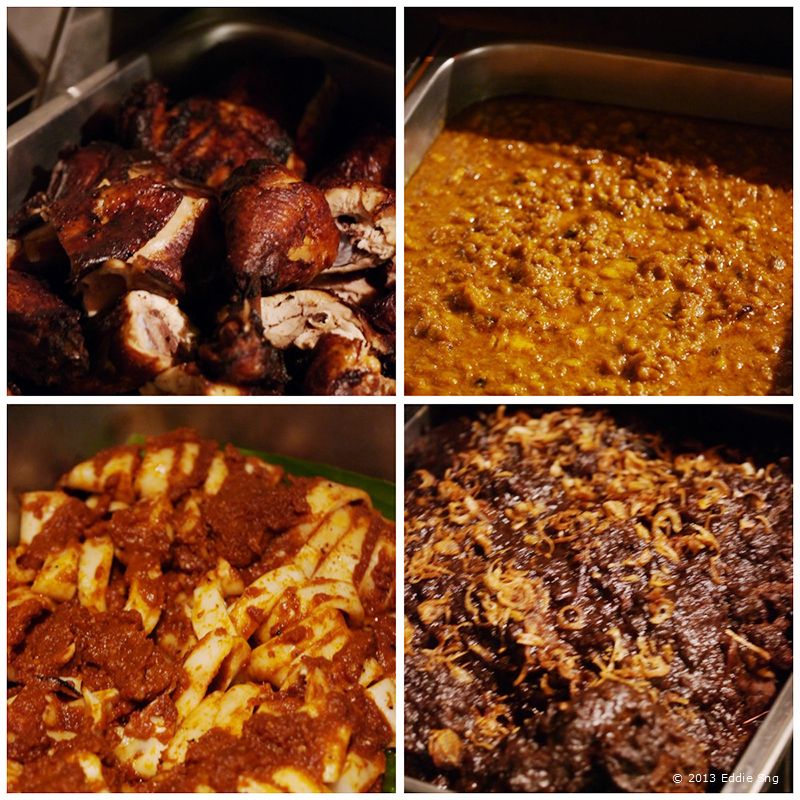 The restaurant seating is a nice mix of table seating and high chair seating.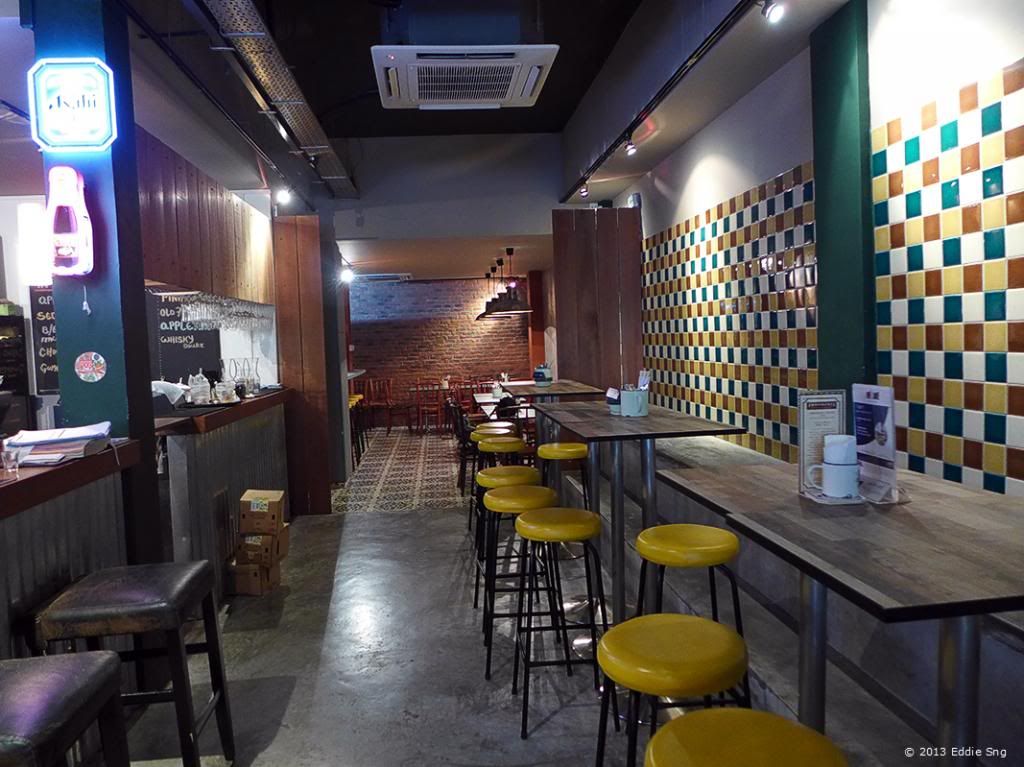 Some early birds gathered for a chat...

While others started drinks early...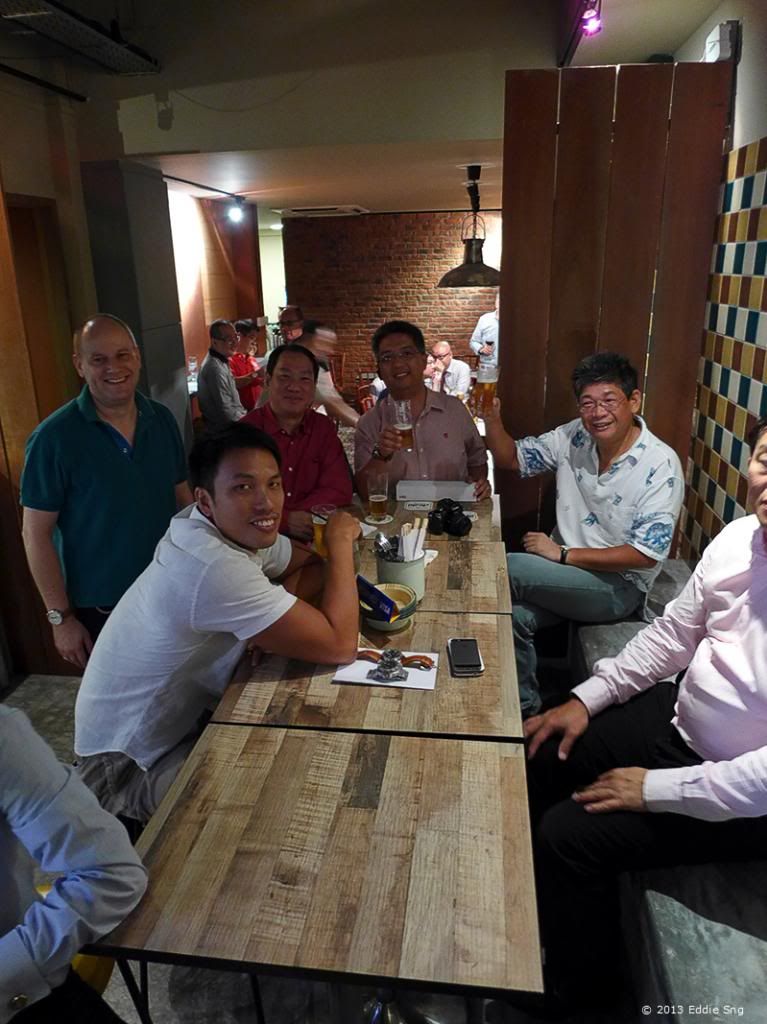 Asahi Super Dry no less… plus red and white wine.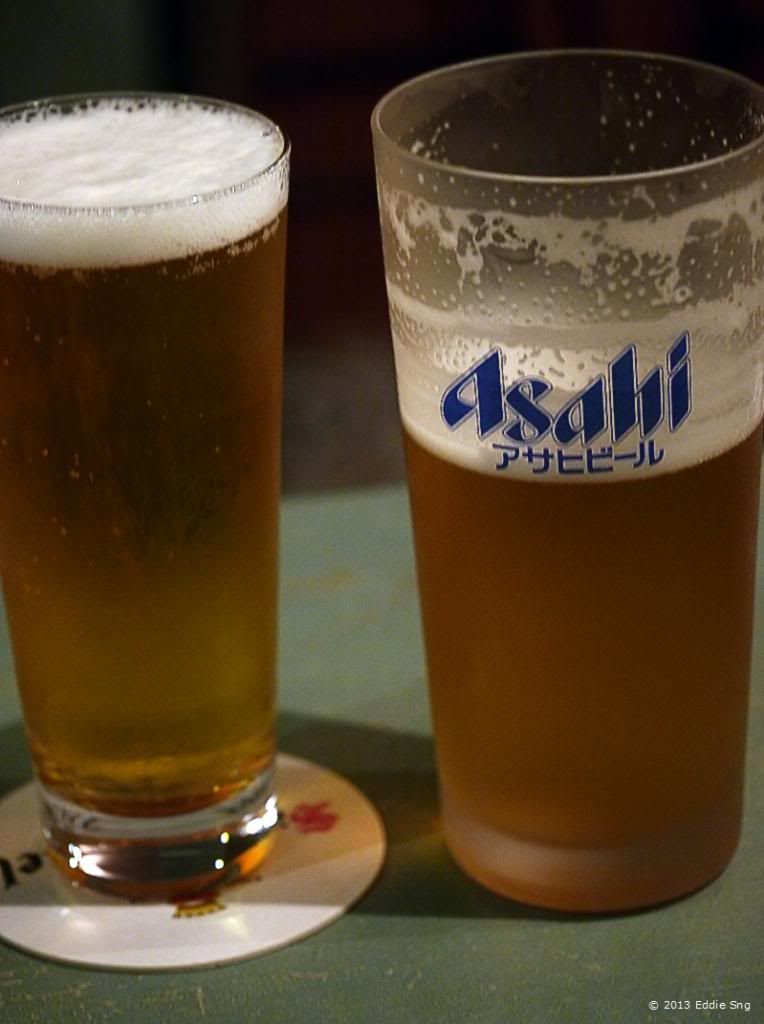 And soon it was dinner time! Some at the tables...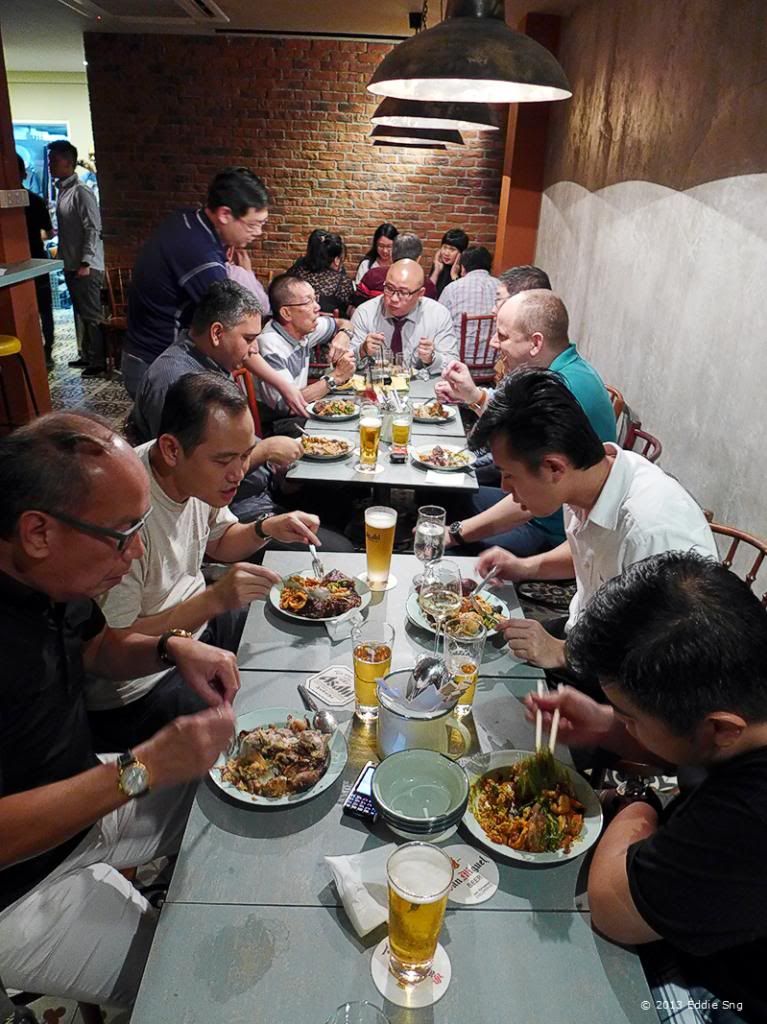 And some at the high tables. Food was a served on a metal plate reminiscent of days past. Totally retro!

And the ang mohs also ate the same...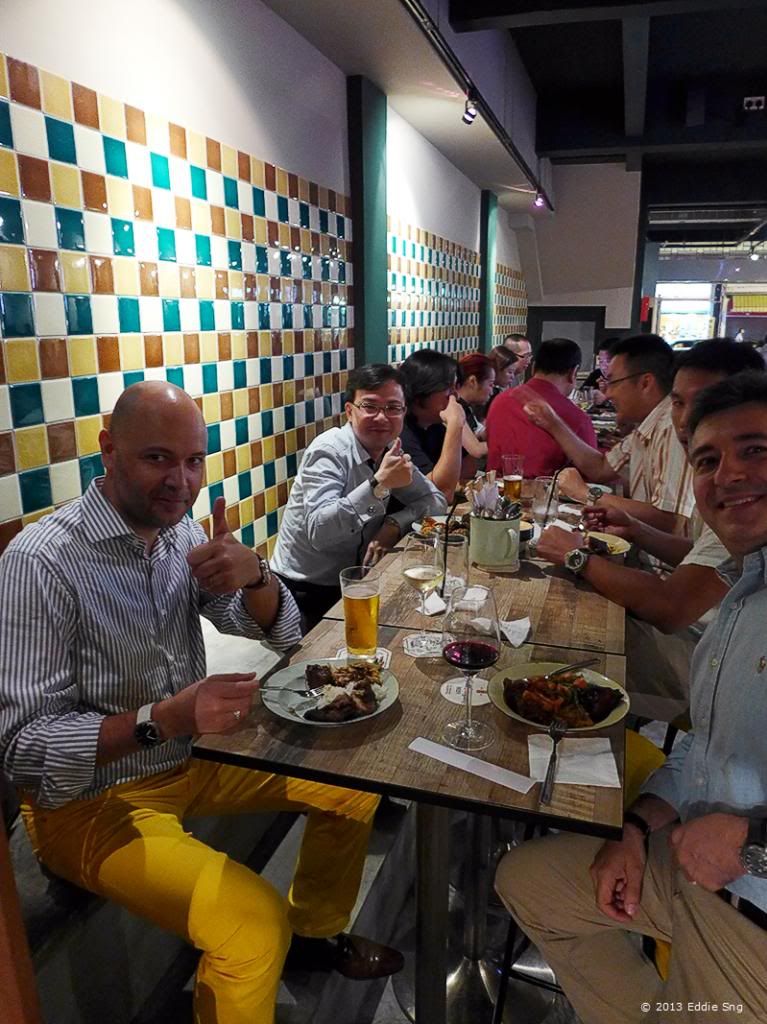 And not forgetting the ladies too...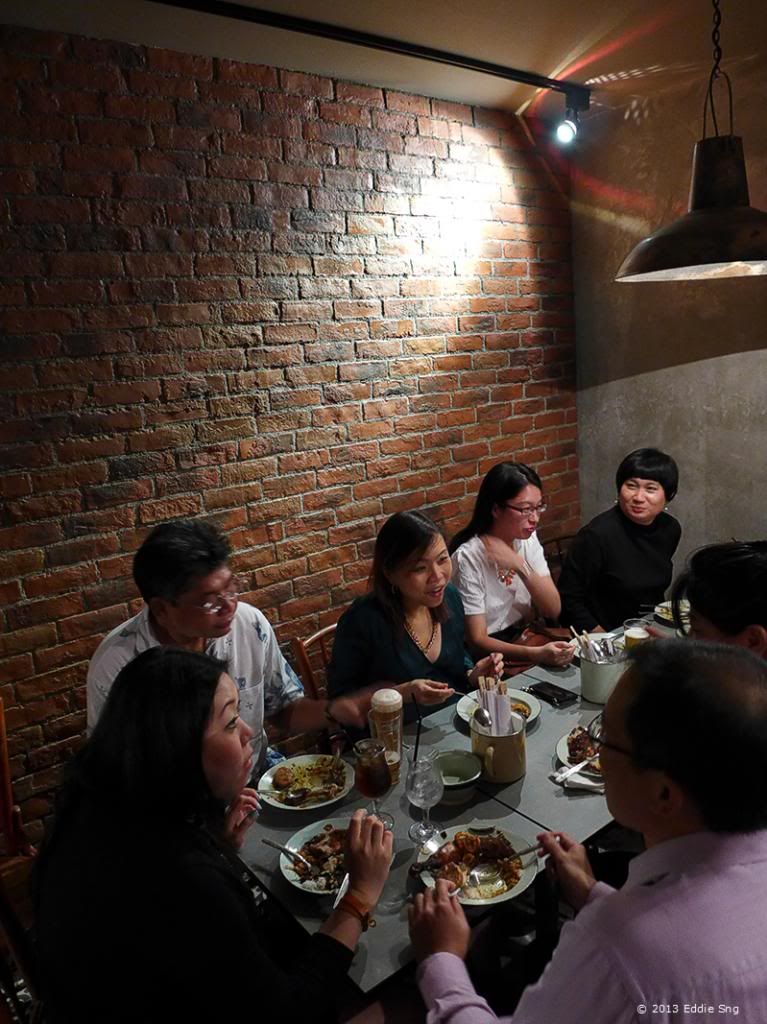 Nothing like tucking in to a good meal with wine and beer!

And before you knew it, Lelong time! This is where we put our watches on the table. This time around, the 2 themes were - watches not from the big houses like Swatch, Richemont or LVMH and the second one Special or Limited Editions from any brand. The set up reminds me of a dark seedy gambling den - illegal trading going on! Lelong lelong!

And what a turnout it was! Philippe Dufour Simplicity, Vianney Halter Antiqua, FP Journe Tourbillon Souverain Remontoir dEgalité and the list goes on… an impressive range of watches.

Can you identify the watches and the brands?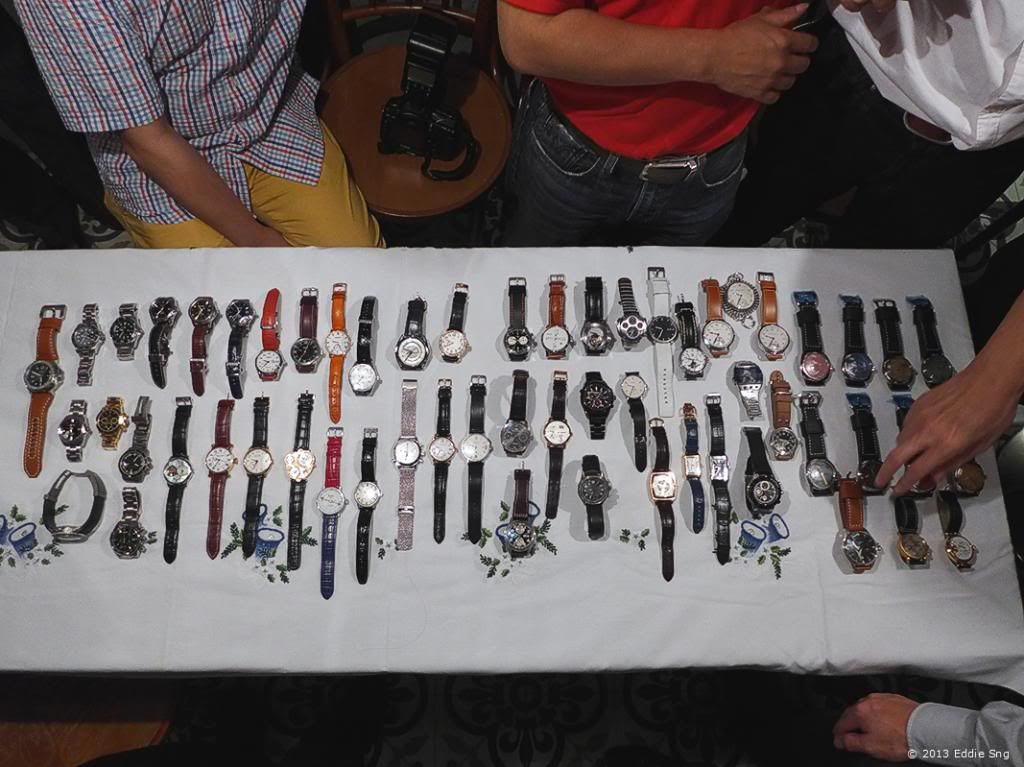 And since we had ladies for the first time, we had to have the ladies parade their watches too - from left to right IWC, Rolex, Lange, Zenith, Chopard, Jaeger Le-Coultre and Vacheron Constantin.

Look out for the Seiko Star Wars Edition, two Hamiltons, Reedsco, Movas Tourbillon LE, Otium, Habring, MIH, IWC Pocket Watch, Seiko Astron and Nomos World Time.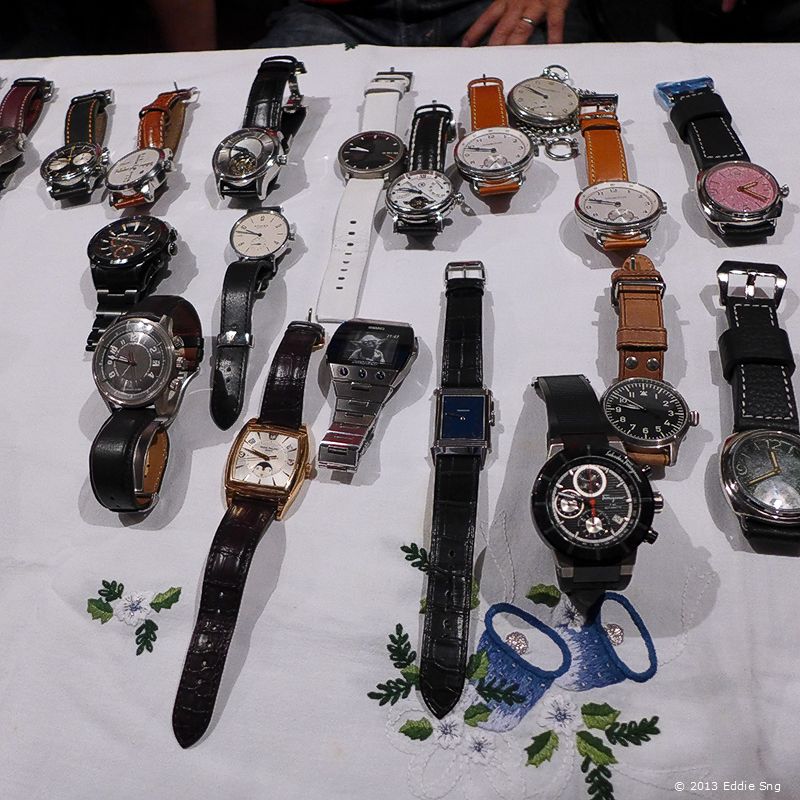 And the three very desired pieces...

And the most desired piece for the night must be the Simplicity by Philippe Dufour. Seen here being examined by Suzanne under a loupe. She was hoping for a trade with Peter but alas, one Rolex in solid gold (bracelet) does not equal a Simplicity.

So engrossed were we with the watches that I totally forgotten to take photos of the dessert (durian pengat). But we were lucky enough as Lionel brought some macaroons, courtesy of Mrs Lionel. The durian pengat was nice but wish there was more durian flesh in it.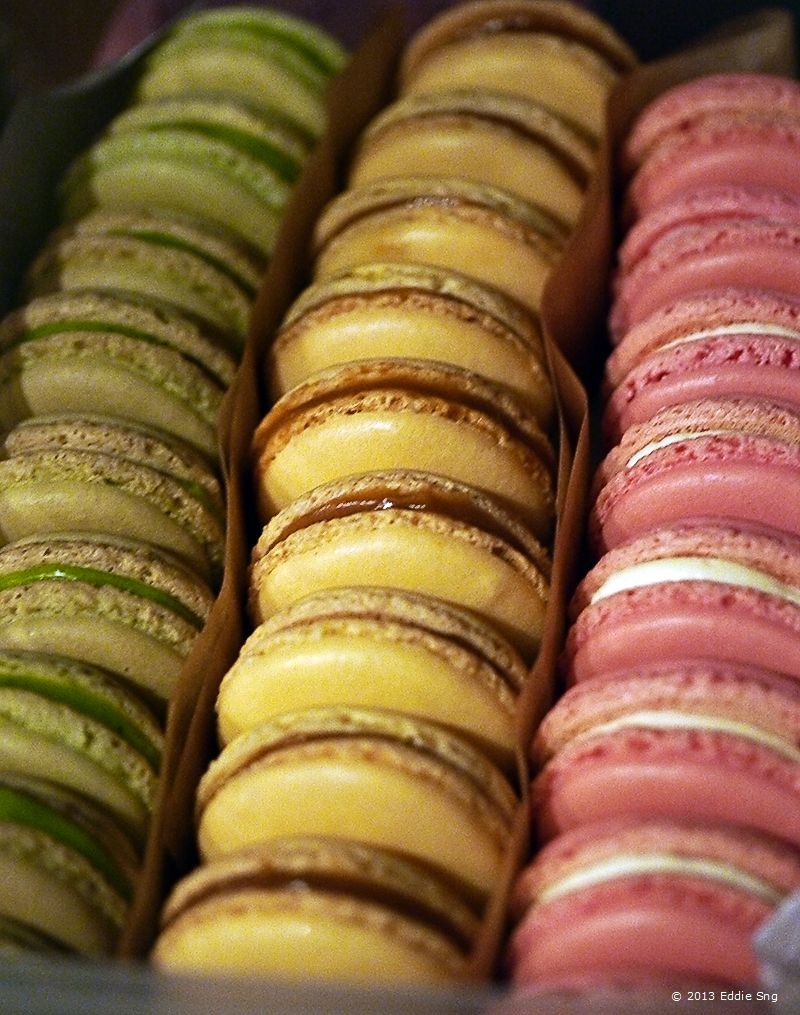 And here is another less seen piece - the De Bethune DB27. Unmistakably De Bethune.

And one of the watch that created quite a buzz - The Seiko Presage 100th Anniversary Enamel Dial. Limited to 500 each, the watch pays homage to the first Seiko wristwatch.

I am sure by the end of the night, all present were happy - good food, great company and an excellent range of watches. Much thanks to Chef Damian, Gareth, Joel and all at the Immigrants who made the occasion a lot more enjoyable. In our past gatherings, we have never had so many watches on the table. This is definitely one of the more successful GTG. Plus the presence of 11 ladies… what more can we ask for?
Immigrants Gastrobar, 467 Joo Chiat Road. Opens for dinner only.