Not many chain restaurants maintain a certain level of consistency across all their outlets. However, I have been impressed with Pu Tien.
Every three months, they add on a seasonal menu on top of their regular ala carte menu. So you will know that every time you choose to dine at Pu Tien that you will be able to try something new. This being December brings forth the Winter Specials. And I was again impressed by their offering. To start off with, the Glazed Baby Carrots.

Sweet and crunchy, the baby carrots has been infused with a sweet, minty and lemony syrup and well permeated all the way through. Adds a refreshing touch to the carrots and definitely lifts the appetite. Also on the Winter Menu is the Tangy Braised Mushrooms.

Cooked in a clay pot, there are a few types of mushrooms, black fungus and tomatoes. Unusual but not great. Whenever you dine at Pu Tien, one must have is the Braised Homemade Beancurd. They are made by the restaurant and not purchased from third party. Very soft and fresh to the bite and well braised in light soy sauce. Not oily at all unlike those one purchases from the market.

The Pork Belly with Garlic - they call it bai ruo is also another winner for me. Although they use the pork belly, they are sliced thin and the garlic sauce is drizzled over the pork service chilled and placed over cucumber sticks.

One more signature dish is the Deep Fried Tenggiri fish otherwise known as Spanish Mackerel. Pu Tien does it particularly well - crispy on the outside and yet juicy on the inside. I typically take it with their chili sauce.

The chili sauce is also another winner in my opinion. The right amount of sour and hotness and tangy taste lifts the fried fish dish. Also goes very well with the braised homemade beancurd.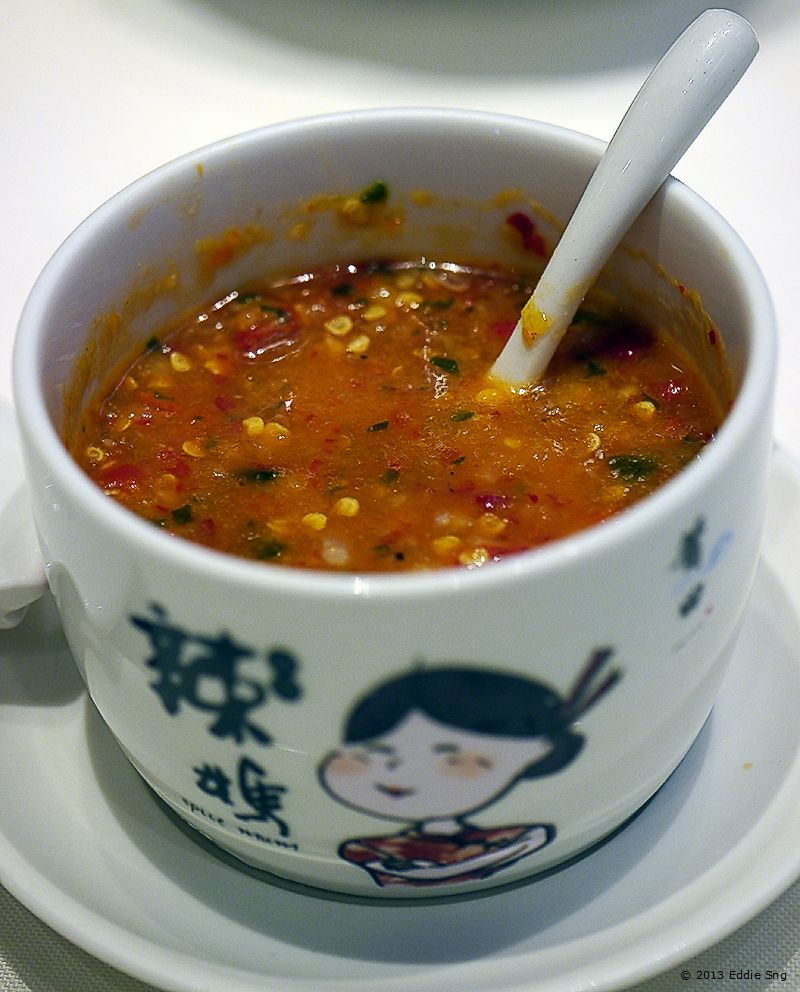 The other bean curd dish is also worth having especially when you are a bean curd fan like myself. The silky smooth egg bean curd is also made by Pu Tien and stir fried with mushroom and sugar peas. Well fried on the outside and smooth and silky on the inside.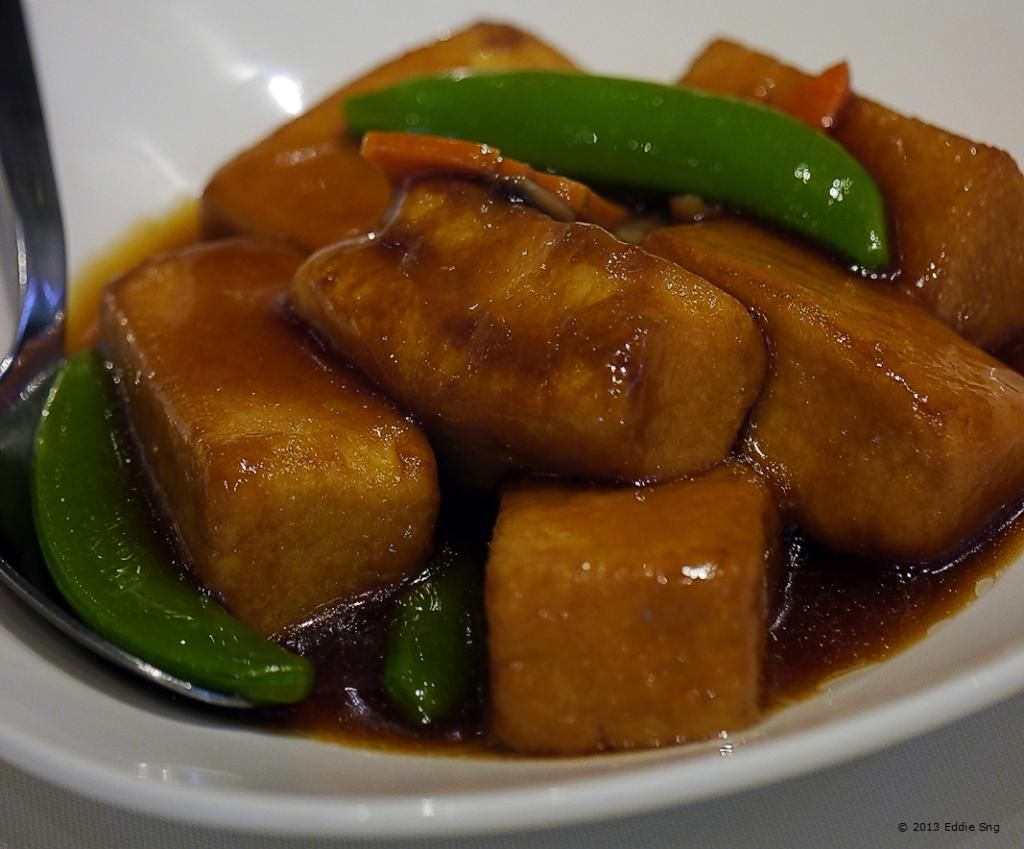 And now for my wife's favorite dish - the Stir-fried Yam. The yam is well fried and the sugar caramelized leaving a savory exterior and a soft sweet interior. I love their version a lot.

Another well done dish is the Braised Bittergourd. No hint of bitterness but a well braised gourd that simply melts in your mouth. Thumbs up for this dish.

Pu Tien is also famous for their (thin) Heng Hwa style bee hoon. The bee hoon used here is the fine bee hoon and they usually cook it in a chicken or pork stock. However, I like the Soy Milk Heng Hwa been hoon more. Instead of using stock, the egg is beaten and stir fried before some soya milk is added. Then the bee hoon is added to the mix and finally, seaweed and peanuts are added on top.

The bee hoon is light and the hint of soya milk adds a different taste to the dish. Simple yet mouthwatering.
I like Pu Tien Restaurant and definitely recommend them to friends. A normal three persons meal will set you back around $100 - ok by Singapore standards in a sit down restaurant. I shall return again to try out other dishes. This time around, I dined at their Kitchener Road restaurant which is what they call Lao Dian (the old shop).
Pu Tien Restaurant
127 Kitchener Road, Singapore 208514
Tel: (+65) 6295 6358
Valet parking available at this outlet.