Saboten Restaurant has been voted on of the Top Restaurants in the world and we have one right here in Changi Airport Terminal One.
Changi Airport is not a traditional airport as one would expect - airports traditionally have passengers and rows and rows of check in counters. But here at Changi Airport, there are also many restaurants to keep Singaporeans happy. Saboten is one such restaurant.

Saboten serves tonkatsu (pork cutlet) and is located at Terminal One - level 3 above Counter Row 8. IMHO, Saboten is probably one of the best tonkatsu restaurants around. When you order a set, it comes with free flow of cabbage, miso soup and rice.

One of the favorite part of my meal there is the cabbage. Shredded very fine and kept chilled, the crunchiness of the cabbage coupled with the sesame sauce is heavenly. I typically polish off three bowls before I tuck in to my main course.

Whenever I am hungry (or greedy), I typically order the Saboten Special Set. Comes with pork tenderloin, pork loin, fried ebi and one crab croquette.

But the rituals started with the cabbage and the wait staff will also provide you a bowl of sesame seeds.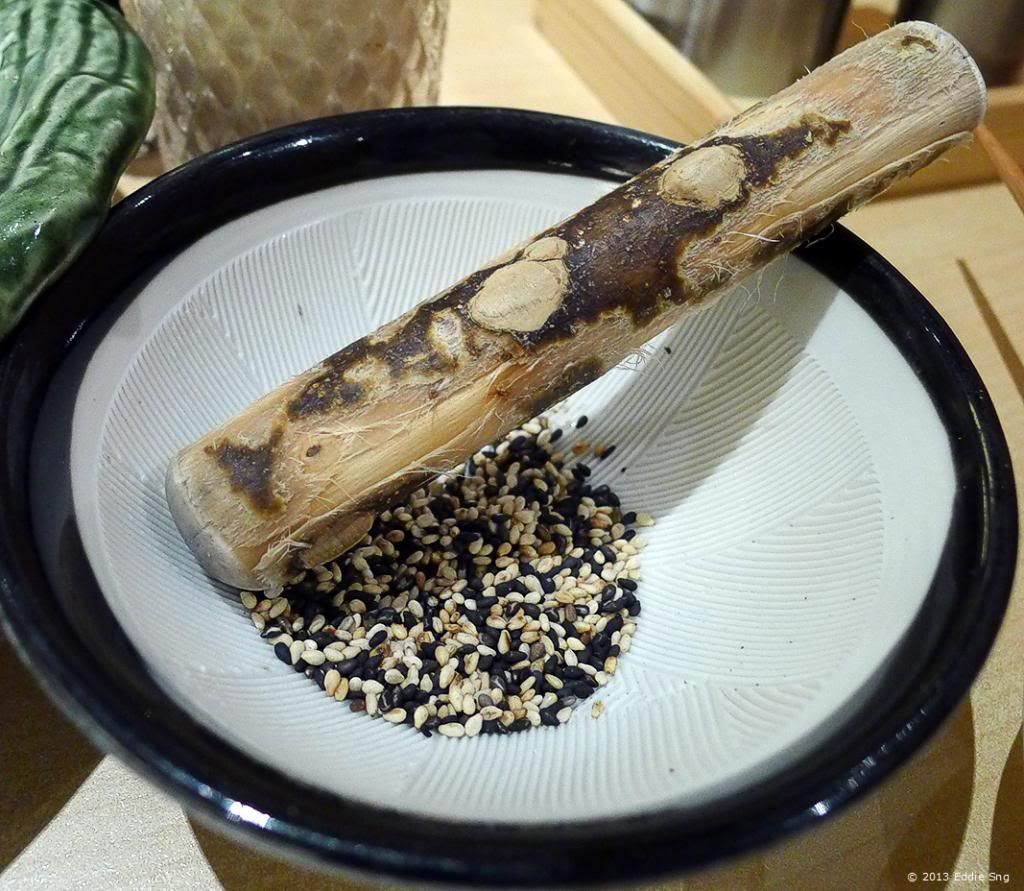 Using the wooden pestle, one grinds the sesame seeds into as fine a powder form as possible. You can immediately smell the aroma of freshly ground sesame seeds.

And then you add the tonkatsu sauce and mix it into a thicken sauce/paste.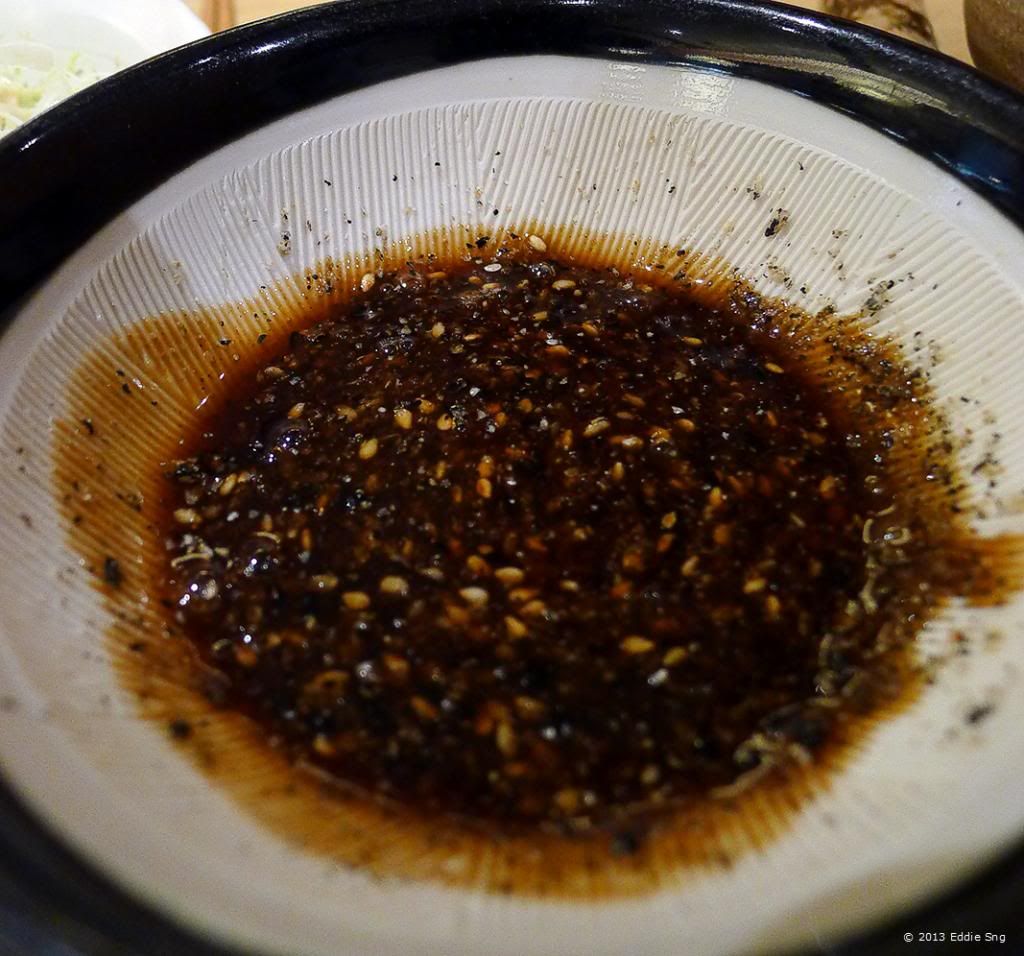 The tonkatsu here is the tenderloin. Fried just nice and the moist on the inside, the cutlet does not have an oily feel to the bite.

That is what I like about the tonkatsu at Saboten. The oil they use is fresh and the resulting cutlet is very light.

Some prefer the loin shown above but I still prefer the tenderloin. Again, the loin is fried just nice.

The fried ebi is always my son's favorite and I normally give that to him.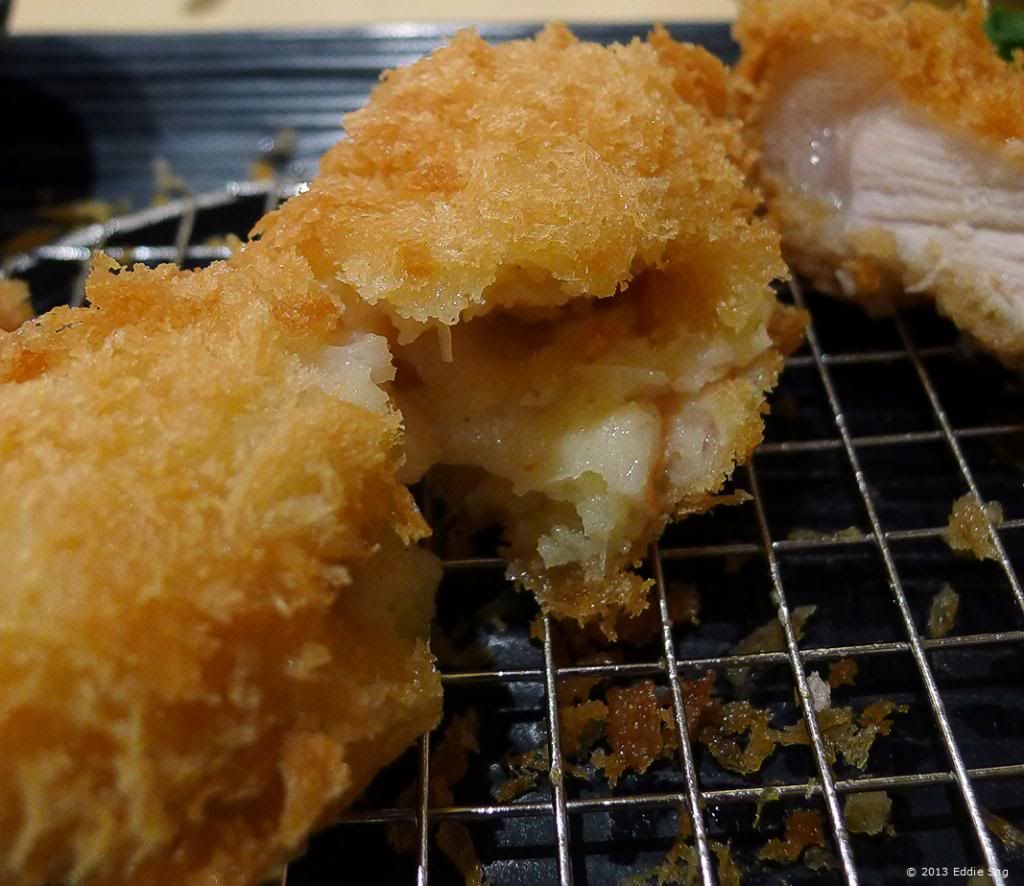 The last portion is the crab croquette. This one I find a little disappointing as I believe they use crab sticks. But the potato is soft and rather tasty by itself.
Always a hearty meal at Saboten, the set also comes with green tea ice cream. But most of the time, I forgo that.
For those going to Changi Airport for whatever reasons other than flying out, give Saboten a try. Saboten is a "must-try" for anyone who loves tonkatsu. They have promotions from time to time and for now (May 2014) they have the Garoupa set.